From K6 to Wi-Fi: BT unveils the "phonebox of the future"
10 April 2017
Residents, visitors and businesses in the London borough of Southwark are set to benefit from the fastest free public Wi-Fi available, free calls, and a range of other free digital services on the street, following a partnership between BT, Intersection, and outdoor advertising company Primesight.
Southwark is home to a number of London's most iconic tourist attractions, such as Tower Bridge, the Shard skyscraper, the Tate Modern art gallery, amongst many others.
It will join Camden as one of the first areas where BT's new LinkUK service will be rolled out in the capital.
Find out more
---
The art of the Internet of Things
10 April 2017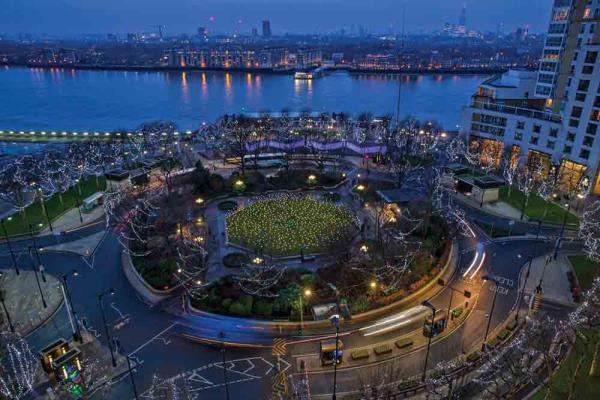 Xirrus provided the wireless hardware and software infrastructure for a recent and innovative art installation in London.
Created by digital art group Squidsoup, Bloom was initially launched at Kew Gardens as part of its Winter Trail and Christmas events. It then transferred to Canary Wharf and is now expected to make its international debut in Mexico City this summer.
Bloom comprises around one thousand individual Wi-Fi-enabled IoT light bulbs that sway in the wind and spread a gentle glow each evening.
Find out more
---
UK's first 5G fixed wireless trial
10 April 2017
Arqiva and Samsung Electronics are working in partnership to develop what they say is the first field trial of 5G fixed wireless access (FWA) technology in the UK.
Set to take place in the second half of 2017, the trial will involve the deployment of an end-to-end 5G FWA network operating in the 28GHz band.
Arqiva owns the national licence for this spectrum which is also the standard band being used for 5G trials in the USA, Japan and South Korea.
Find out more
TES helps Northern Ireland college call for backup
10 April 2017
South West College (SWC) in Northern Ireland has overcome its comms challenges with the help of Leyland-based TES Radio.
The college's campuses in Cookstown, Dungannon, Enniskillen and Omagh are around 35 miles apart and host more than 500 staff and 25,000 students.
All this meant the logistics of managing the IT department were daunting.
SWC technical supervisor George Frazer says: "The campuses are also quite large with big buildings and set in hilly terrain, so communication-wise, the traditional radio equipment we had was inadequate in terms of site coverage and signal."
Find out more